Tandem Sizing Guide
Sizing is really important when it comes to making sure you're comfortable on your tandem.
Orbit offers a wide range of sizes throughout its models:
The Velocity is available in three standard sizes, and an XL size, which is 23"/19" with a 61cm horizontal front top tube will be available late summer. The Routier range is currently available in the medium and large.
Lightning: available in medium or large in aluminium and in Columbus Spirit & titanium in small, medium and large plus custom sizing
Steel tandems: available in seven standard sizes, as well as customised sizes.
If you find you need additional dimensions not shown here, please contact us and we'll be happy to help.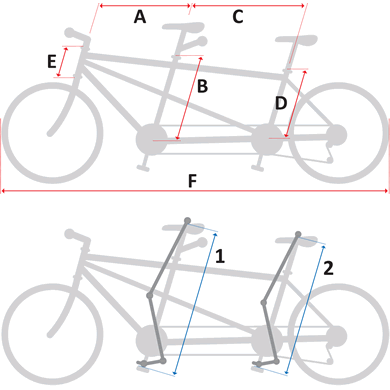 Sizing Chart
| | | | |
| --- | --- | --- | --- |
| | Small | Medium | Large |
| A | 54cm/21" | 56cm/23" | 58cm/23" |
| B | 46cm/18" | 51cm/20" | 56cm/22" |
| C | 66cm/26" | 71cm/28" | 71cm/28" |
| D | 36cm/14" | 41cm/16" | 46cm/18" |
| E | 12.5cm/5" | 12.5cm/5" | 16.5cm/6.5" |
| F | 243cm | 248cm | 250cm |
The total length (F) is based upon a 700x32c tyre
26" tandems will be approximately 4cm shorter.
Sizing guide
To make sure we get the sizing right on your new tandem, there are a few pieces of information we need from you and your riding partner. Firstly, we need to know your ride heights which you can measure on a solo bike or a tandem.
To work out ride heights:
*Ensure the pedal is set at the furthest point away from the saddle.
*Measure from the saddle to the top of the pedal as shown in the image on the left.
If you are are planning on buying your tandem mail order we also need to know:
*The distance from the nose of your saddle to the centre of the handlebars
*Whether your handlebars are higher, lower or level with your saddle.
We are always on hand to help with sizing so if you need any advice, please do call us on +44(0) 1756 748822 or email info@orbittandems.co.uk